Call for Nominations for the 2014 Outstanding Publication Award
Nominations for the 2013 award are now closed. The winner of this year's award will be anounced at CAMWS 2013 in Iowa City.
The Subcommittee on the Outstanding Publication Award asks for your help in identifying distinguished first books published by CAMWS members in 2011, 2012, or 2013. Self-nominations are encouraged. Both textbooks and monographs are eligible for consideration. Please send titles and publishing information to:
Christina Clark
Associate Professor
Classical and Near Eastern Studies
207 Dowling Hall

Creighton University
Omaha, NE 68178
The Committee will close its list for the 2014 award on September 1, 2013.
Books published after that date may be considered for the 2015 award.
The current committee's guidelines for awards include
excellent quality
wide significance within its genre (monograph or textbook)
awareness of international trends in its field
All other factors being equal, the committee is looking for something that shifts the conversation substantially in the area covered by the book.
The recipients of this award are announced at the annual business meeting.
2013 Recipient
Congratulations to Joseph Rife, for his book Isthmia: The Roman and Byzantine Graves and Human Remains (Isthmia IX), ASCSA/Princeton, 2012.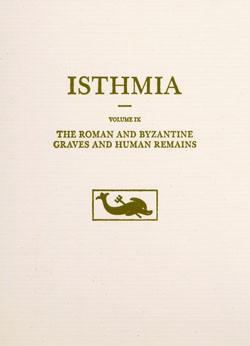 http://www.ascsa.edu.gr/index.php/spiffs/rife-interview