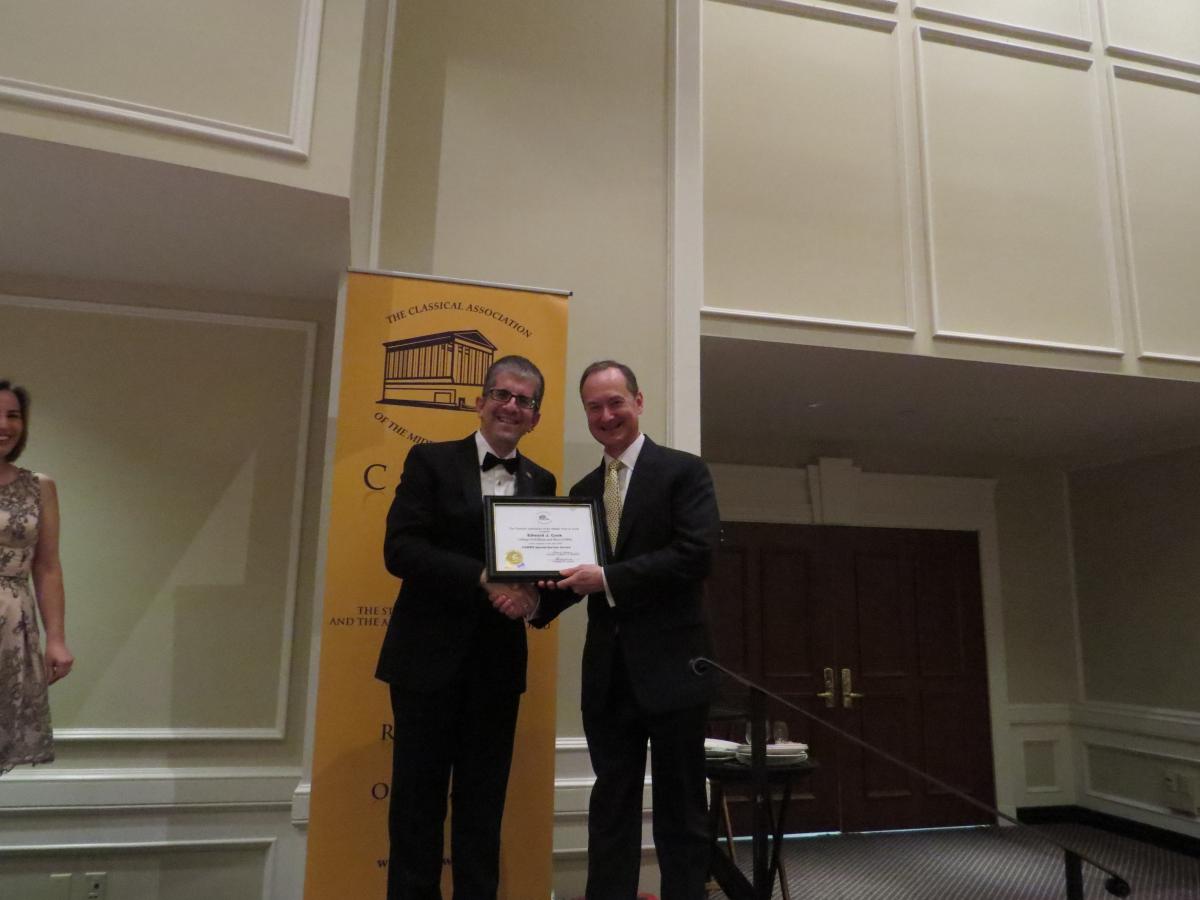 I am delighted to announce that Edward J. Cook is the recipient of the 2016 CAMWS Special Service Award.
A 1986 graduate of the College of William and Mary, Mr. Cook's success as a naval officer, lawyer, judge, and corporate executive is matched only by his continual dedication and generosity to the Department of Classical Studies, and it is in recognition of this support that the associations honors him with this award.
Following the completion of his J.D. degree from the University of Virginia School of Law, where he was an editor of the Journal of Law and Politics, Ed Cook spent nearly five years on active duty with the U.S. Navy Judge Advocate General's Corps as a trial attorney and later as legal advisor to several admirals. He presently holds the rank of Commander in the Navy Reserve.
Ed then continued his service to our country as Counsel to the head of U.S. Immigration and Customs Enforcement at the Department of Homeland Security, where he contributed to the development of the national anti-money laundering strategy, and later as a municipal judge elected for 2 terms. Currently, Ed is a Director of Alaric Compliance Services, LLC and serves as the Chief Compliance Officer (CCO) to both registered investment advisers and registered investment companies; he is currently the CCO to a business development company (BDC) and to registered investment advisers with hedge fund, mutual fund and business development company clients.
As a student at William and Mary, Ed was especially inspired by Professor Emeritus J. Ward Jones, Jr., a long-time member of CAMWS and former president of the CAMWS Southern Section. His high regard for Professor Jones and for our Department has endured to this day. As a loyal alumnus, Ed makes his way to Williamsburg every year since his graduation in 1986 during Homecoming to visit our department. His generosity over the years has allowed us to fund everything from student research opportunities to a wide range of critical departmental needs.
In recognition of his enduring generosity to the William and Mary Classical Studies department, his abiding love for the classics, and his significant professional contributions to both the public and private sectors, we are pleased to honor Edward J. Cook with this much-deserved award.
Vassiliki Panoussi
Audio from the banquet at the 2016 CAMWS Meeting
Special Service Award 3: