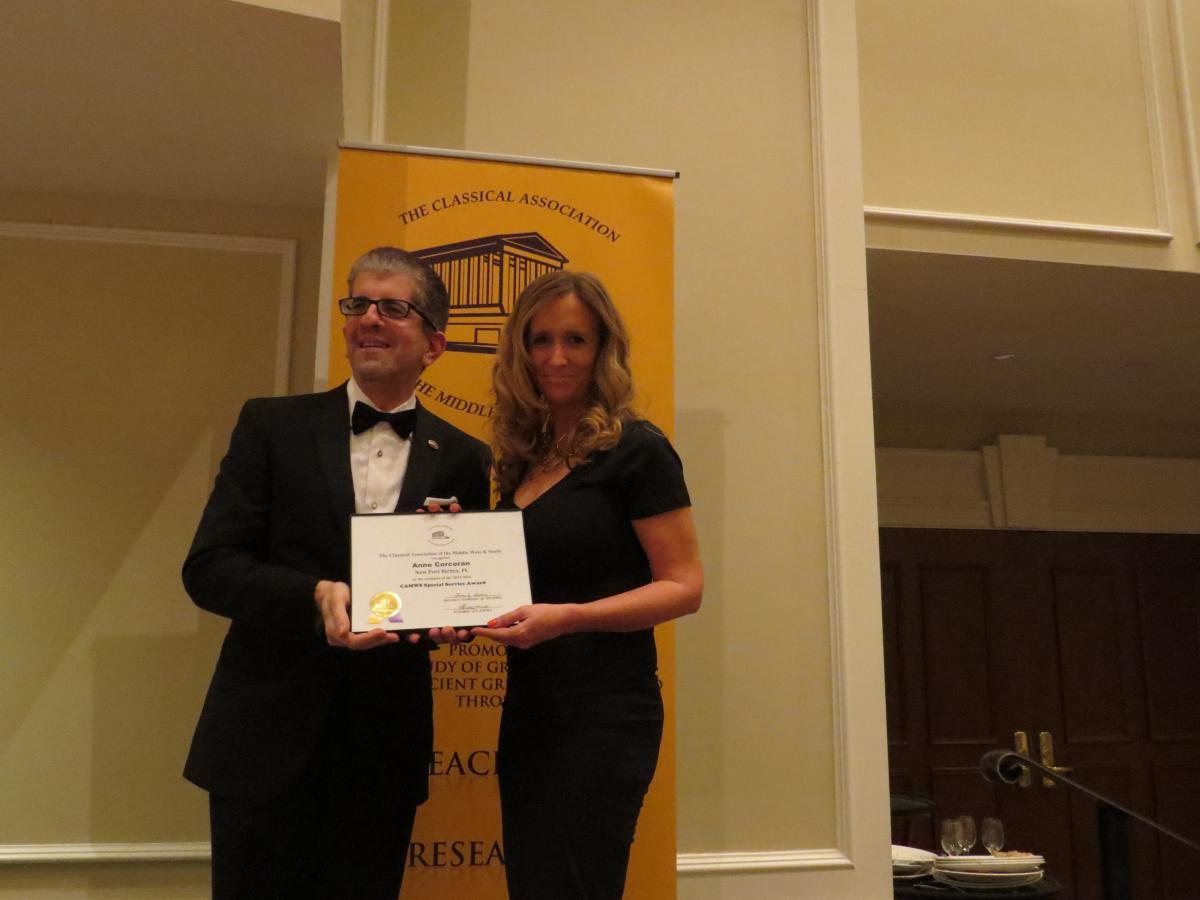 Anne Corcoran, a practicing attorney at her own law firm, is the founder and board president of the Classical Preparatory Academy. 'Classical Prep,' as it is better known, is the first public school in Florida based on a Classics curriculum. It provides a traditional liberal arts education to students in grades K-9th and will soon serve the last three grades. From her Charter application in 2011, to the opening of the school in 2014, to its booming enrollments and its latest accolades, Anne has faithfully and tirelessly served the school in her role. She has moreover donated thousands of legal hours for pro-bono and administrative work for the school, all for an annual school salary of… one dollar.
The Florida department of education just awarded Classical Prep the grade "A" for its first year (2014-2015), which is a rare fit in our state. Yet for those who have followed Anne's vision and that of her faculty, this achievement is not surprising. The school's primary purpose is not to teach the students how to perform well in tests but "to be wise and virtuous leaders who can read complex texts, analyze opposing viewpoints, write with eloquence, and speak with confidence." Students begin Latin in first grade, they parse Greek and Latin etymologies by sixth grade, and they experience the ancient world in all their Humanities and Science classes. The curriculum is implemented through what faculty refers to as 'Classical Classroom' strategies, a protocol which diverges substantially from current educationalist trends. The Classical Prep teacher is not a 'facilitator,' or a 'guide on the side'; instead, they are a Socratic 'sage on the stage,' a gentle leader who directs students to solid and knowable truths by structuring their inquiry. The school principal and faculty comprise an educational team that is Classically trained and unapologetically traditional in the best sense of the term. To found a Florida public school on Classics curriculum is tremendously impressive; to run it with Classics as a pedagogical method and to receive an A from the Florida department for education is nothing less than Herculean. Anne has accomplished both of these tasks she set for herself and for her six children, who are her original inspiration for the school and among its first students.
Besides her dedicated work within the Classical Prep campus, Anne is a tireless ambassador for Classics in Pasco County, the school district. A rural community an hour north of the University of South Florida, Pasco County has a median income of $18,000. This demographic fact has political, social, and educational implications which discourage the thriving of a tuition-free school based on a Classical core. Yet because of Anne's town hall meetings, outreach, flyers, newspaper interviews, and fundraisers, Pasco has now embraced Classical Prep as a public asset. Parents now report, with both pride and amazement, that their children have discovered a love for reading, learning, and growing up.
In sum, Anne has overcome great challenge to establish the value of Classics as curricular content, as pedagogical strategy, and as a way of life. Her passion for Classics can be perhaps summarized in an excerpt from the Classical Prep mission statement, of which she is the author. She says "Classical education seeks to arm and inspire students to do what is right rather than what is expedient, to think before they act, and to equip them to have the ability to make wise and virtuous choices in both their personal and professional lives."
By Eleni Manoloraki
Audio from the banquet at the 2016 CAMWS Meeting
Special Service Award 2: