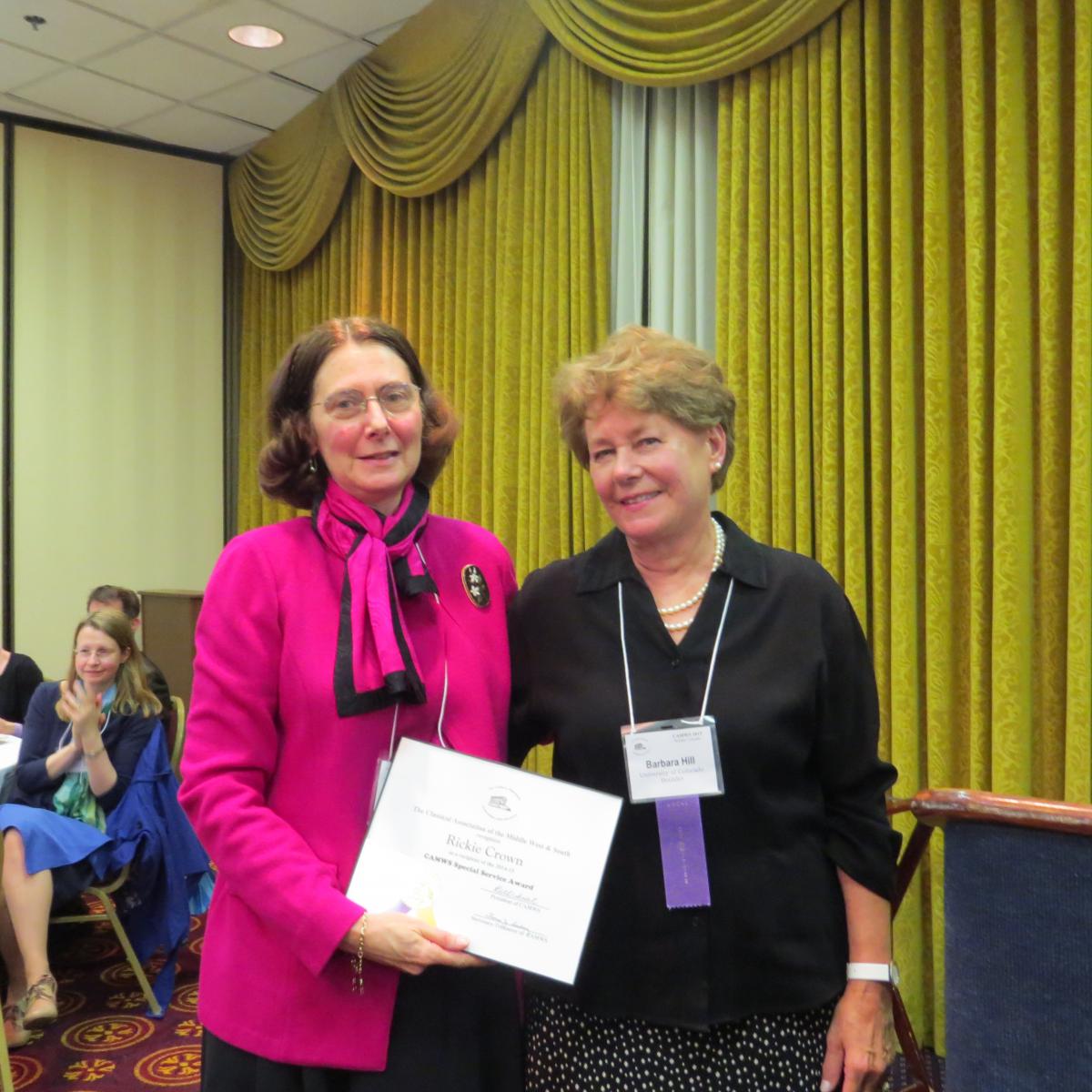 Tonight CAMWS is pleased to present an award for Special Service to a teacher and scholar who has made and continues to make significant, long-lasting contributions, especially in the areas about which she is passionate: middle school Latin, support for all Latin teachers, and the preparation of future Latin teachers.
As a newly minted Ph.D. in Classics from the University of Michigan, our award winner returned to her home state of Illinois, secured a teaching job, and soon launched into the mission that, in addition to her excellence in the classroom, defined her career. In 1990 she became co-chair of Committee on the Status of Teaching of Latin in Illinois for the Illinois Classical Conference (ICC), and she soon recognized her fellow teachers' needs for communication, enhanced materials, and more effective teaching techniques. Thus the ICC/National Louis University Latin Pedagogy Workshop was conceived. Our winner organized, presided over, and presented at ICC/NLU workshops between the present. The several three-day sessions attracted teachers from across the nation, provided continuing education credits and exposed teachers, new and veteran alike, to such innovative concepts as reading theory, multiple intelligences, materials and practices to meet the needs of students of all ability levels, puppetry, and mask making. More recently, one-day in-service pedagogical workshops assist Latin teachers, primarily from the Chicago area.
In 1995, our awardee became co-chair of the Middle School Committee for the American Classical League, and to this day, 20 years later, she continues to work tirelessly on middle school issues, every year planning a popular annual workshop at the annual ACL Institute entitled "Meeting Them in the Middle".
Every spring, moreover, she teaches a Classical Language Methods Class at National-Louis University for college graduates preparing to teach Latin at the secondary level. She expertly assesses the strengths and needs of each of the individuals, who enters the class, and is amazingly proficient in giving them the skills they need to manage classes on their own. She doesn't, however, say good-bye when the course ends. She further assists in attaining teaching positions, and she continues to nurture through the years.
Tirelessly, she devotes her time, energy, and expertise to helping students and teachers of all backgrounds to find greater success in our field. Individuals whose lives have been touched by our winner can be found across the country, and some are here with us tonight.
Please join me in celebrating the phenomenal service rendered to the field of Latin and Classics by Rickie Crown.