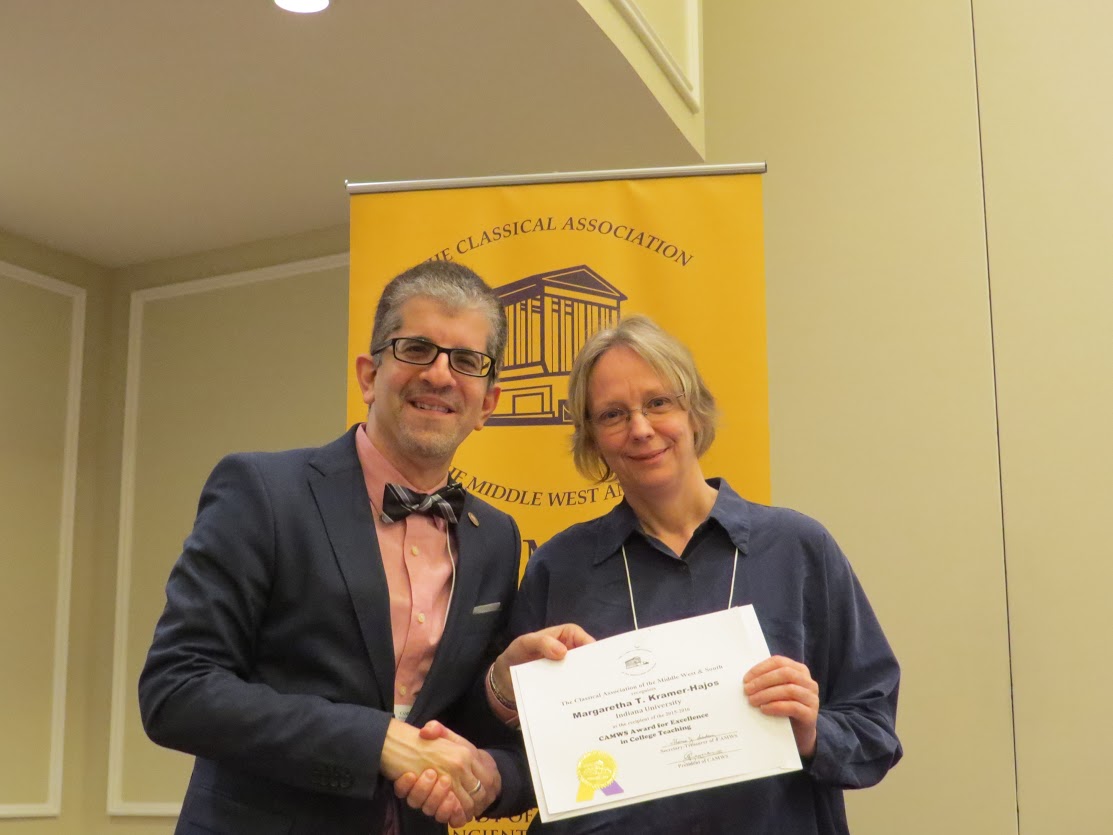 Professor Margaretha Kramer-Hajos, teaches at Indiana University, although she is currently researching in Europe. In 1992 she earned her B.A. in Classical Philology, cum laude, University of Groningen, followed in short order by both an M.A. in Classical Philology and and MAT in Classical Languages and Civilizations at the same university. After a stint as a high school teacher, she moved to a doctoral program in Classical Archaeology at Cornell University, where she received her PhD in 2005. Since 2006 she has taught at Indiana University. Her two books, several articles and book reviews, and numerous conference papers (many at CAMWS) grow from her work in Bronze Age Aegean archaeology. She has participated in excavations in Greece and in Italy, and has received fellowships both in this country and in The Netherlands.
Her teaching at Indiana has been wide-ranging; it includes not only art and archaeology courses, but also "The Golden Age of Athens" and "Piracy in the Ancient World." She supervises undergraduate and MA theses and one dissertation (so far), and mentors other research projects. Best of all, her students learn from her to think critically while they also learn to love the ancient world:
One student, now an educator herself writes, "For many years, I have kept a daily journal in which I write events or people for which I am grateful that day. the oldest journal I could find begins in the last three weeks of my final class with Professor Kramer, and within those three weeks, she is mentioned seven times....I loved her courses because her approach to teaching challenged and changed me as a student and as a person."
"Dr. Margaretha Kramer-Hajos not only teaches classical studies courses," says another, "but she creates and continues to encourage budding scholars, a welcoming and supportive atmosphere, and she instills a genuine curiosity about world around us. Most importantly, Margaretha is my friend. Between hectic semesters, her own research, family life, and wild summer fieldwork, she still takes the time to check in, listen, and make suggestions. I can think of no individual more deserving of this teaching award."
The Subcommittee on Teaching Awards concurs and names Professor Kramer the recipient of the 2015-16 CAMWS Award for Excellence in College Teaching.