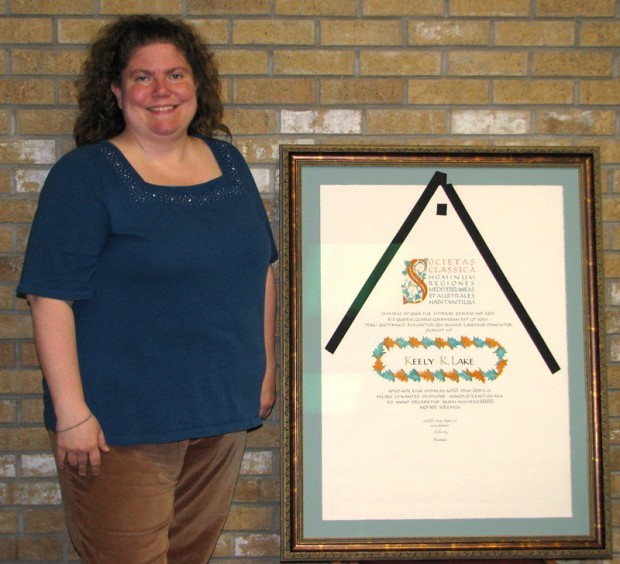 Keely K. Lake
Montclair State University
January 15, 2020
Keely became a Life Member of CAMWS in 2008-09; in that year she also received a Manson Stewart Travel Award to attend the 2009 CAMWS Annual Meeting. She served as CAMWS State Vice-President for Wisconsin in 2004-10 and 2015-17. She received an Ovatio from CAMWS in 2011.
She served as a Member-at-Large on the CAMWS Executive Committee in 2012-15. In 2015-16 she received a Travel Grant for High School Groups (these grants will henceforth be called Keely Lake Grants for School Groups) from the CAMWS Committee for the Promotion of Latin. She served as Chair of the CAMWS Committee for the Promotion of Latin in 2016-19. At the time of her death she was serving on the CAMWS Program Committee in 2019-20, the first year of a two-year term. She was a frequent presenter at CAMWS meetings on AP Literature and Women.
Here is Keely's obituary:
Keely K. Lake, 48, passed away on January 15, 2020, at the age of 48.
She was the daughter of James and Dorothy (Burcham) Lake, born on December 8, 1971. She had recently moved back to Hot Springs to care for her father.
Keely graduated from Hot Springs High school in 1990, the University of South Dakota with a BA in Classics in 1994 and the University of Iowa with a PhD in Classics in 2001.
She was a visiting guest professor at Gettysburg College in 2001 and Professor of Classical Greek and Latin at Wayland Academy from 2002 until 2018.
She was teaching online courses for Montclair State, Wayne State University and One Schoolhouse.
She was an active member of the Vergilian Society, several Classic related boards and organizations and was a reader/table leader for standardized AP exams in Latin.
Keely was an avid gardener, enjoyed cooking, reading, traveling, and collecting books. She also traveled extensively which was a passion of hers.
She is survived by her father, James Lake; and her precious cats, Penelope and Gemini. She is preceded in death by her mother.
Visitation services will be held 5:00 p.m. until 7:00 p.m., Thursday, January 23, 2020, at Chamberlain McColley's Funeral Home in Hot Springs, SD.
Published: https://www.meaningfulfunerals.net/obituary/keely-lake?fh_id=13288
The following was posted on the Vergilian Society Facebook Page by Jim O'Hara:
I write with the sad news that Dr. Keely Lake passed away Wednesday in her home in Hot Springs, South Dakota.
I knew Keely best from her several years as the Secretary and a Trustee of the Vergilian Society, where she was the glue that held the Society together, both as an administrator and as a valuable voice on the Executive Committee. All who knew her know she was an exceptionally energetic and accomplished figure in the world of Classics and the teaching of Latin. Smart, cheerful, funny and always ready to help, she made meetings both more effective and more enjoyable, and one's first thought is that she will be irreplaceable.
Keely got her B.A. in Classics at the University of South Dakota in 1994 and her Ph.D. in Classics at the University of Iowa in 2001. She taught at Gettysburg College and for sixteen years at Wayland Academy in Beaver Dam, Wisconsin. She moved back to Hot Springs not long ago, where she attended high school and where her father James Lake lives; her mother Dorothy Lake passed away there in 2017.
Keely was the chair of the National Committee for Latin and Greek, as well as that organization's Delegate to the Joint National Committee for Languages and the National Commission on Libraries and Information Science. She was also the NCLG's (and the Vergilian Society's) webmaster. I can remember when she needed a friend to help her with the Vergilian Society website, but she was a lifelong learner who could soon do it on her own. She served on committees for the American Classical League; the College Board; the Society for Classical Studies; Classical Association of the Middle, West, and South (CAMWS); the National Latin Exam; and the American Council on the Teaching of Foreign Languages. She was the moderator of the website of the "Advanced Placement Latin Teacher Community." This is probably an incomplete list of all the things she was doing.
Keely Lake was honored by CAMWS in 2011 with a meritorious service award, an "Ovatio," a flattering speech in praise of her accomplishments before the entire membership, for outstanding service to the organization and to the profession of teaching Latin, Greek, and the world of classical antiquity. The photograph shows her posing in front of the framed scroll for her Ovatio.
Keely has online a detailed course pacing guide for teaching an Advanced Placement Latin course on Vergil and Caesar: https://apcentral.collegeboard.org/pdf/ap-latin-planning-pacing-guide-lake-2012.pdf. She published articles on "How My Students Learn to Stop Worrying and Love the Grammar," and "Sample Syllabus, Vergil," and gave numerous papers at conferences on such subjects as, e.g. "Dido 'in' Cuma: Using Text and Material Remains to Teach Roman Women."

Quis desiderio sit pudor aut modus tam cari capitis?