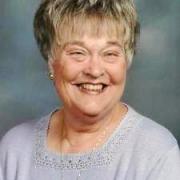 Judith Ann "Judy" Streid, 79, of Pekin, passed away at 8:32 am., Saturday, August 29, 2020 at UnityPoint Health - Methodist in Peoria.
Born January 1, 1941 in Bloomington, she was the daughter of Alvin A. and Viola (Sommer) Streid. Her parents preceded her in death as did her stepfather, Russell Hensley; one sister, Joan Adelman and one great nephew, Jamie Martin.
Surviving are one stepbrother, Norman (Diane) Hensley of Opelika, Alabama; eight nieces and nephews, Chris (Judy) Adelman of Bloomington, Cate (Shirley) Adelman of Decatur, Susan Martin, Beth (Ray) Adams, Amy (Deb) Adelman, all of Bloomington, Steve Adelman of Pekin, Ellen (Joe) Saunders of Parker, Colorado, Sara Koskella of Boise, Idaho, former sister-in-law, Linda Tomlinson-Hensley of Boise, Idaho and thirteen great nieces and nephews, and five great-great nieces and nephews.
She received her bachelor's degree from Illinois State University in 1963 and earned her master's degree in Secondary Education in Latin in 1969, also from I.S.U.
A Pekin resident since 1963, Judy was a beloved teacher at Pekin Community High School District 303, where she taught Latin and English in the Cultural Studies and English Department for over 30 years including time chairing that department. She enjoyed interacting with students in various activities outside the classroom such as student council and leading students on numerous trips to Italy and Greece. She was named PCHS Outstanding Contributor of the Year in 1990. At the 2011 Illinois Classical Conference, she received of a lifetime achievement award for decades of inspiring her Latin students. Following retirement from full-time teaching, she continued to serve as a substitute teacher and volunteer until last year.
Beyond teaching, Judy spent a lifetime of involvement and contribution to her community. Her memberships and activities included: the Altrusa Club of Pekin, the Tazewell County Retired Teachers' Association, Alpha Lambda Chapter of Delta Kappa Gamma, the Pekin Y.W.C.A. Y Reserves, Pekin Friends of the Library, Chapter LM of P.E.O. Sisterhood, the Pekin Civic Chorus "Showtime" productions and many others. She was selected as Grand Marshal of the 2016 Pekin Marigold Festival in honor of her community spirit and involvement.
She was a devoted member of Grace United Methodist Church in Pekin, where she was a member of multiple committees, a teacher, and a member of the choir.
Her love, service, teaching, and dedication has touched the lives of her family, students, and community. She will be remembered for investing herself generously and lovingly with family, students and all the people and many activities in her life centered in Pekin. Beyond her contributions and impact on so many people Judy was a fun person to know as she made it clear to all that she was a lifelong devoted Chicago Cubs fan. In short Judy lived that dash between the years marking her life to the fullest.
Her funeral service will be at 11 a.m. Friday, September 4, 2020 at Grace United Methodist Church in Pekin. Pastor Eric N. Swanson will officiate. Friends of Judy are invited to pay their respects from 9:30 to 10:45 a.m. Friday at the church. There will be no family reception line during visitation, respecting the need for safety and social distancing. Those attending the funeral are also asked to respect social distancing and follow mask guidelines. Judy's funeral service will be live streamed on the church's Facebook page or by visiting pekingrace.com and clicking on Messages + Live Stream.
A graveside service will then be held at 2 p.m. Friday at Park Hill Cemetery in Bloomington. Arrangements are by Preston-Hanley Funeral Homes & Crematory in Pekin.
In lieu of flowers, memorial contributions may be made to the Pekin Community High School Scholarship fund, 320 Stadium Drive, Pekin, Illinois 61554, the Grace United Methodist Church Memorial Fund, 601 North 4th Street, Pekin, Illinois 61554 or to the Pekin YWCA Y Reserves, 315 Buena Vista, Pekin, Illinois 61554.
To express condolences online, visit www.preston-hanley.com