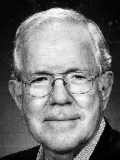 Donald R. Laing, Jr., age 77, devoted husband of the late Daryl L. (nee Wachs) and the late Lois Marie (nee Show); beloved father of Karen Diller (Jon), David (Pam), James (Joyce), Cindi Kimble (Darren), Ried Zulager, Dana Zulager (Cody), Kae Zulager (Ron), and dear grandfather of Andrew, Emily, Joseph, Jay, Joseph, Samantha, Madeline, Thomas, Wyatt, Lydia and Clayton; great-grandfather of Hannah and Jackson; and brother of the late Kay Westerberg and Janet Mellinger.
Dr. Laing was a Professor of Classics at Case Western Reserve University for over 40 years. He was a lecturer and actively involved with, the Cleveland Archaeological Society. He was a member of Parma South Presbyterian Church, and most recently a member of Fairmount Presbyterian Church. He also was a member of both church choirs, and the West Shore Chorale; an avid golfer and Cleveland Indians fan.
Dr. Laing passed away on Thursday, April 2, 2009. Memorials may be forwarded to a charity of choice.