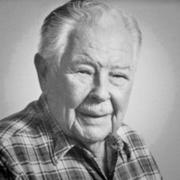 Born September 23, 1927 in Amery, WI to Oscar and Ellen Erickson. Died peacefully on April 29, 2021 surrounded by his three daughters. Longtime resident at The Kenwood in Minneapolis.
Jerry graduated from Amery High School and joined the Merchant Marines in 1945. He married Loretta Eder in 1951 and they had three daughters. He served in the US Army and then attended the University of MN. Recalled in 1951 during the Korean War, he was a First Lieutenant in the US Air Force. He continued his education at the U of MN, ultimately receiving his PhD in Philosophy. He was a high school teacher in Edina, MN for eleven years teaching Latin, Greek, Russian, and Italian. In 1967, he became a Classics professor at the U of MN. He held that position for many decades. His love of languages and learning was evident throughout his life. He could read a multitude of languages. He spent Sabbatical leaves teaching in Moscow, Athens and Rome. He was awarded the Horace T. Morse-Amoco Distinguished Teaching Award and was listed in Who's Who in America.
Jerry, or Bop as his grandchildren called him, was always a forward thinker. In 1956 he began commuting to work by bicycle for environmental reasons decades before it became en vogue. He continued biking through rain, sleet and snow until he retired. He became a vegetarian over 30 years ago for ethical reasons and health benefits. He was a proud blood donor, giving over 8 gallons in his life. He was an ardent supporter of workers' rights and a member of the Marxist party. He supported many humanitarian causes both domestically and internationally. He coauthored a book and wrote numerous published articles on a variety of topics. He appeared on cable television on the Atheist Forum and was often a presenter on KUOM radio.
Continuing education and learning was a prominent aspect of his life. He was proud of his extensive library collection covering many fields of study, topics and languages. He always had reading material with him wherever he went. He was a very competitive Scrabble player and enjoyed doing daily cryptoquips. He loved to sing and played trumpet in a band in his 20's.
Always described as "such a nice man and gentleman" by everyone who knew him, Jerry was a kind, intelligent, articulate and genuine humanist. He was a vinum amans (wine lover) who enjoyed big band music, intellectual debate and visiting with family and friends. He could never understand how anyone could ever be bored in life - there was so much to read, learn and share.