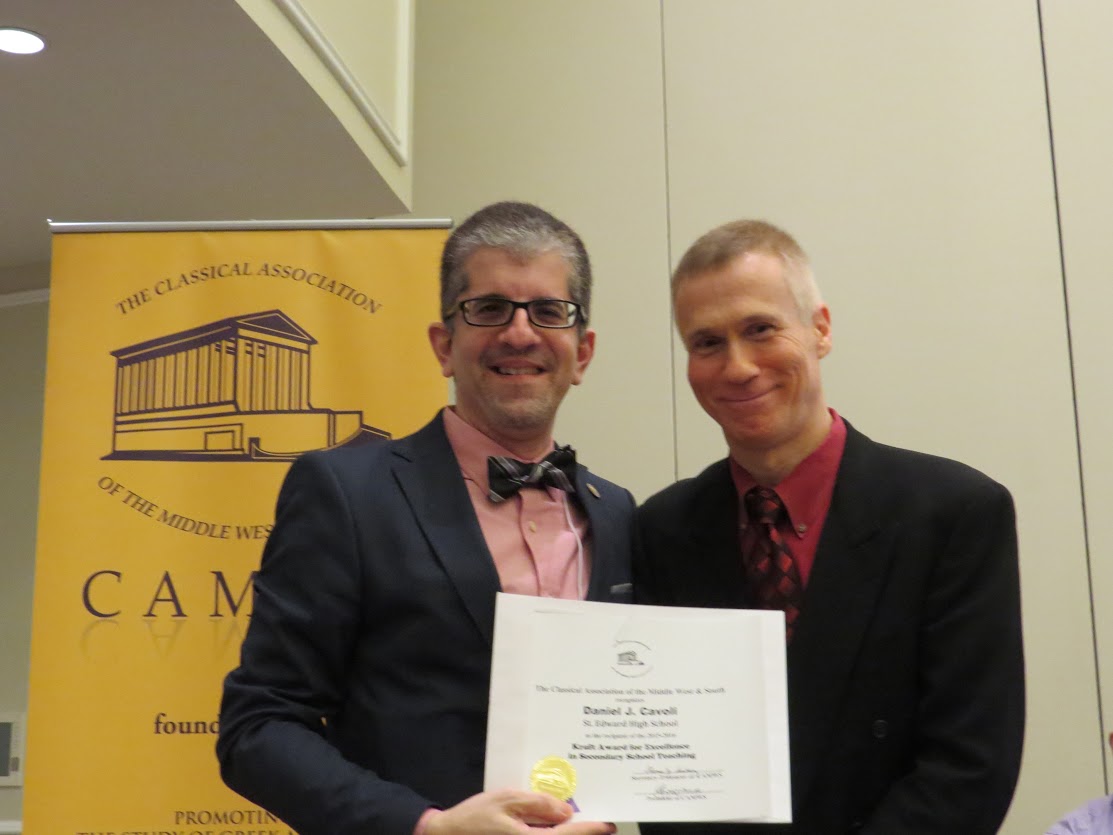 Daniel Joseph Cavoli graduated as valedictorian of the 1980 class at Holy Cross, with majors in Classics and Religious studies, and 24 years later he earned his MA in Classics at John Carroll University. Since 1989 he has been at St. Edward's High School in Rocky River OH, where he took over a Latin program that was being phased out. Through his inspired and inspiring work not only is the program still alive, but it was recognized as the outstanding Latin program in Ohio in 2005 with the Hildesheim Award; two years later St. Ed's Classical and Modern Languages department was named Ohio Foreign Language Association's Best Language Program; Dan himself was Ohio Latin Teacher of the Year in 2004. His students clearly learn lots of Latin: they have written more than 90 perfect papers on the National Latin Exam, and earned titles in academic contests at both Ohio JCL and National JCL.
Dan's love of Latin, moreover, is complemented by his love of art (he has studied drawing and sculpture) and of song, and he shares this with his students as well: He founded and for five years directed St. Edward's Latin Cantors. Their musical programs at nursing homes during the Christmas season won CAMWS' prize for outstanding promotional activity in 2008. His commitment to his faith and to the wholistic development of his students has borne fruit in wilderness backpacking retreats, "Eagles in Flight"—nearly 120 of them, in fact.
Rather than catalogue his achievements, I will let you listen to his students and colleagues.
One student writes, "Daniel Cavoli is responsible for my love of the Classics, for my desire to be a Latin teacher, and, in no small way, for improving my character through his daily enthusiasm and sincerity. Few teachers bring themselves so completely, heart and mind, to class every single day in the way that Mr. Cavoli does instinctively. He doesn't know how to be disinterested toward learning or dispassionate toward students; teaching brings him alive, and he is always eager to help any and every potential student learn about the Classics."
What we hear from a colleague is similar:
Daniel is always at school. My duties often take me to school on evenings, weekends, and at odd hours as I meet with students and their parents. It is no exaggeration to say that Daniel Cavoli is always there – holding extra help sessions, planning retreats, or just counseling some needy student. In many ways he is a saintly person, thoughtful, generous, compassionate, empathetic, and incredibly positive and enthusiastic. I am proud to have him as a colleague and recommend him for special recognition as a wonderful, effective, innovative, enthusiastic, and generous teacher of Latin.
The Subcommittee agrees and has awarded him the Kraft Award for Excellence in Secondary School Teaching for 2015-16.