JACT Latin Summer School (www.latincamp.co.uk)
2017 Summer School runs from Monday 24th July to Saturday 5th August.
2017 Fees: £300 for tuition / £730 for tuition and full food and board
Please see our website for full details on our operation and a simple online application. Here is a pdf flyer.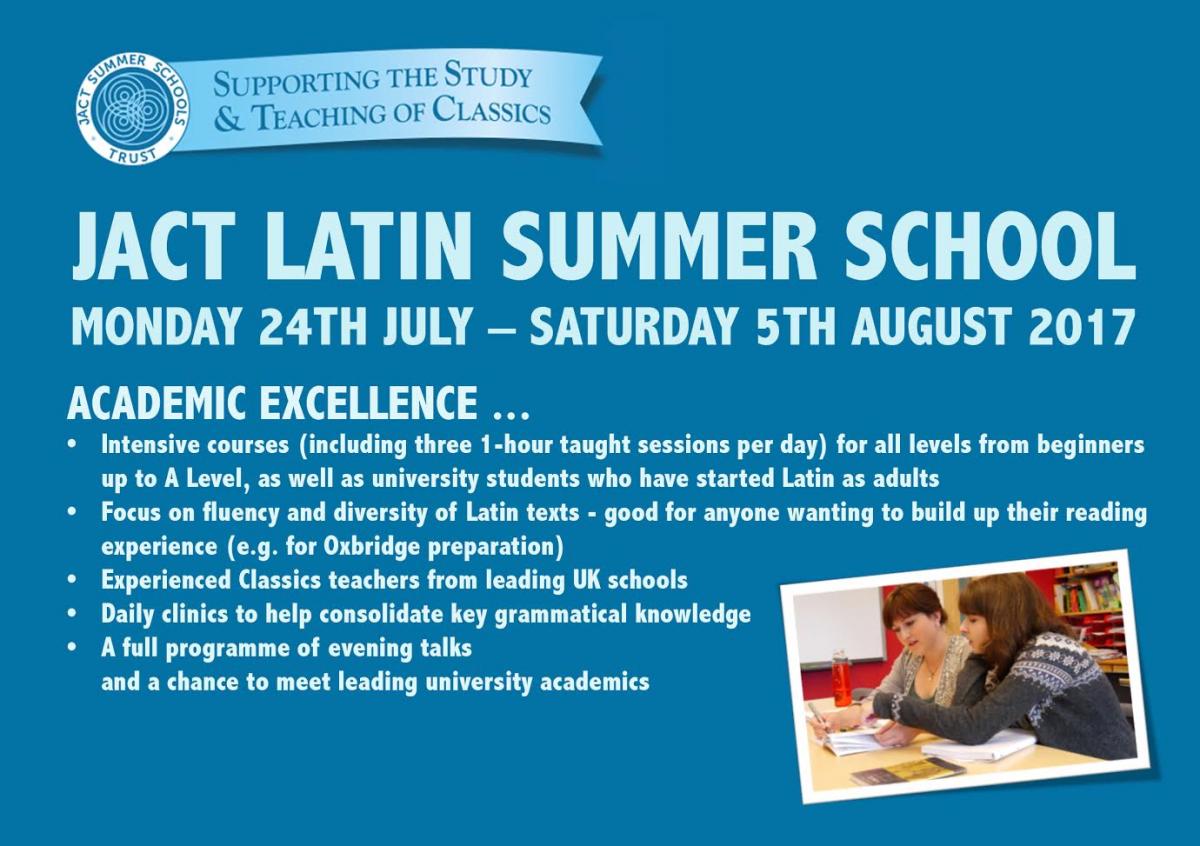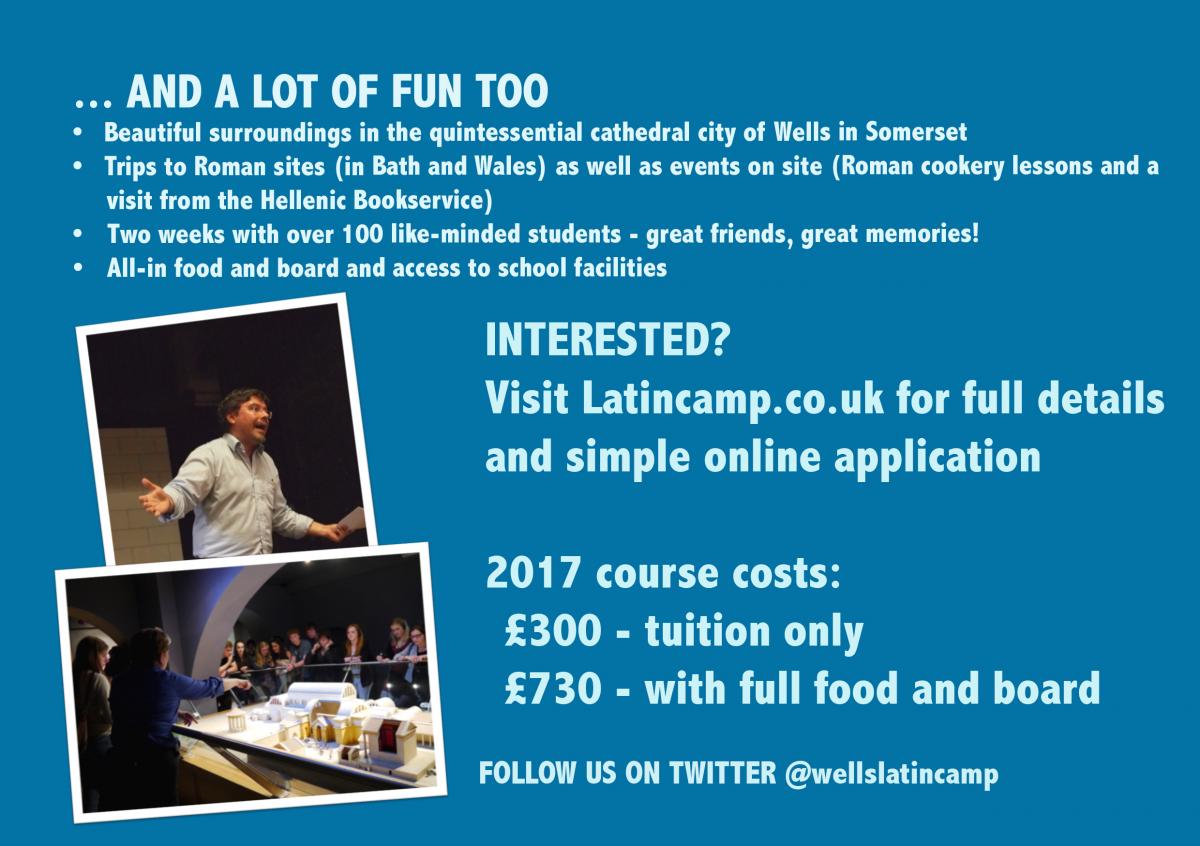 Courses: we offer courses for complete beginners, students in Y10 who are already studying towards a GCSE, students who (will) have just completed their GCSEs and students in either of the two A-Level years. Various undergraduates also come our way. Students all receive three formal sessions per day and are expected to prepare in between them as instructed by their tutors. Please see below for some more details on our main courses.
Key Aims: the main aim (other than the complete beginners) is to become more fluent and read more widely; we are not massively into "grammar bashing" beyond whatever arises naturally from reading the texts. There is however some basic grammar revision built into the programme; this is divided into 12-15 small chunks (e. g. third declension adjectives) set and tested at beginnings of sessions over the fortnight. The exact content and timings for each group will be determined by the course tutor based on needs and experience.
The Tutors: the tutors are all highly qualified subject specialists, of whom almost all are practising Classics teachers from some of the country's leading schools and many are experienced current or recent Latin public examiners. As such they understand how school pupils learn, the sorts of linguistic areas with which even the more able will struggle, and how our courses can directly contribute towards success in public examinations as well as enrich them more generally.
Fluency v Grammar Work: Although revision of Latin grammar is not a primary focus of the Latin Summer School, we do offer grammar clinics on various topics (e.g. participles & ablative absolutes or uses of the subjunctive). We set and test small sections (e.g. adjective endings) for revision each day as appropriate to the reading level of each group.
U18 Students: as well as the drive for academic excellence, we take our responsibilities for looking after the U18 students very seriously. All or almost all of our team are practising teachers whose regular jobs require an awareness and adherence to child protection and whose principal concern is to ensure that they are well cared-for and happy while in our care. U18 students reside in separate U18 boarding houses with a tutor in overall charge of their wellbeing, there is regular adult presence in the houses during the day and a tutor on duty throughout the evening and night. There is a comprehensive Summer School policy on U18 students which tutors consistently adhere to.
Food and Board: all meals and tuition are included in the residential fee and individual dietary requirements can usually be catered for at no extra charge. Accommodation is provided in shared rooms within boarding houses on the school site. Facilities include Tennis courts and a swimming pool, with the local shops and market just a few minutes' walk away. The Summer School runs its own tuck shop.
As well as the basic course programme we provide:
A full programme of lectures on aspects of Roman life and literature, with speakers from universities and museums
A range of 'grammar clinics' to help those who feel their grammar needs a boost
The chance to meet university lecturers from a variety of Classics departments.
Excursions to Bath and Wales
A classical drama production
An optional Roman cookery class
Beginners' Course
This beginners' group follows the 3-book Nick Oulton course, So You Really Want to Learn Latin. We progress rapidly through the basic grammar and syntax to establish reliable building blocks, with emphasis upon practice of the grammar via the medium of writing sentences into Latin.
The key language we cover includes:
Nouns and adjectives of all declensions
Active, passive and deponent indicative verbs of all conjugations
The main irregular verbs
Infinitives and imperatives
The importance of principal parts
Present and perfect participles
Indirect statements
The main constructions which use the subjunctive
At the end of the course the students sit an actual GCSE past paper (with just a couple of very minor modifications) marked by actual GCSE standards. The average mark across the beginners' cohort is usually a comfortable A-grade.
Y10-11 Courses
These courses are intended primarily to increase fluency by reading more literature in the original than the confines of a GCSE course enable. A range of prose and verse authors are covered. Care is always taken to ensure that we do not cover anything which any students have already read.
Tutors choose texts intended to best suit the students based on the information they and their referees provide. A lot of groups will use readers such as:
Wheelock - Selections from Latin Literature
Murgatroyd - Apuleius, Metamorphoses and From Augustus to Nero
Balme and Morwood - Cupid and Psyche and The Millionaire's Dinner Party
The Oxford and Cambridge Latin Anthologies
We usually have at least two groups in each category and our policy is to set them based on how many years they have studied Latin (this does range somewhat) as well as what referees tell us. This helps ensure the right pace and suitable texts to give all the students a meaningful experience.
Sixth Form Courses
At this level we expose the students to a wider range of texts and authors than they will have time to read at school. Typically selections from 3-4 texts are studied. Care is always taken to ensure that we do not cover anything which any students have already read.
Tutors choose texts based on the information which the students and referees provide. An able group will read a selection of authors they may well never have encountered, to get a wider knowledge of literature, awareness of different literary styles and a better base of texts under their belt to talk about in future university applications. For example, the top post-L6 group last year read
Seneca, Letters (a selection)
Suetonius - Nero (selection)
Tacitus - Annals 14 (selection)
Lucan - de bello civili book 7 (in its entirety)
We usually have at least two groups in each category which we set by how many years they have studied Latin, past attainment and the information from referees. Obviously a less advanced group will study easier / more mainstream texts chosen to suit their ability.
CAMWS or Classics News or Jobs: