Clarence Jackson Gump
1925-2017
Waite High School, Toledo Ohio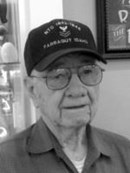 Clarence Jackson "Jack" Gump, aged 91, of Toledo went home to be with his Lord and Savior, Jesus Christ Thursday, April 20, 2017, in Flower Hospital attended by close family. He was born June 21, 1925, to Jesse Clarence and Amy Pauline (DeVault) Gump in Fairmont, West Virginia. A veteran of the U.S. Navy, he retired from Waite High School where he taught English and Latin for many years. A member of Trinity Lutheran Church, Jack was also a member of The Gideons, and the Walter Weller American Legion Post.

Preceded in death by his wife, Betty (Nuzum) Gump; daughters, Rebekah Jane Carpenter and Deborah Jeanette Montgomery; and son, David Jackson Gump. He is survived by daughter, Amy (Glenn) Fitkin; 11 grandchildren; and 14 great-grandchildren.

Friends may visit the family on Tuesday after 10 a.m. in Trinity Lutheran Church, 4560 Glendale Ave., Toledo where memorial services will follow at 12 Noon. The family suggests memorials to Trinity Church or Gideons International, PO Box 97251, Washington DC 20090-7251.