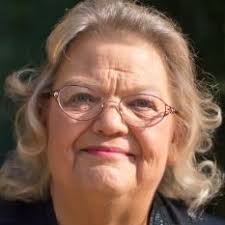 With the great sadness I report the death of a distinguished high school Latin teacher, LeaAnn Osburn who passed away 11 April at the age of 67. She was born 19 July 1950 to Norbert and Eleanor Smoley and grew up in Elmhurst, Illinois. She graduated cum laude from Monmouth College in 1972. In 1977 she began her studies at Loyola University Chicago from which she received an M.A. and in 1978 she began teaching at Barrington High School where she remained for the rest of her career. Besides her lengthy teaching career LeaAnn was known in Illinois classical circles for her work for Bolchazy-Carducci Publishers for whom she coauthored with Helena Dettmer A Catullus Workbook, authored Book 3 of Latin For A New Millennium, coauthored with Tom Sienkiewicz of Legamus, a transitional reader for Vergil, and authored Latin 3: Select Latin Enrichment Readings. Along with Elisa Denja she served as editor for the first edition of Latin for A New Millennium.
LeaAnn also was known for L and L Enterprises which provided many of us in the profession with supplementary books and materials that enriched our programs. (I, for one know that the Ray School Latin Room library was much enriched by L and L books.) Through L and L Enterprises she also published in 2004 Beyond Latin One.
LeaAnn made many presentations at I.C.C. meetings and was the recipient of many honors. She served I.C.C. as Vice-President in 1984-1986 and as President from 1986-1988. In 1989 I.C.C. chose her as Illinois Latin Teacher of the Year. At almost the same time LeaAnn was serving on the Foreign Language Leadership Council (1985-1992) and served as President of that board from 1987 to 1989. In 1987 the Illinois Superintendent of Public Instruction honored her for serving as the chairman of the Latin teaching examination board. In 1989 she was honored again by the same office for her leadership in foreign language instruction. In 1990 LeaAnn received the Lieut. Gov. Award for Illinois and in 1996 she received a Good Teacher Award from the Classical Association of the Midwest and South. In 2008 I.C.C. awarded her its Lifetime Achievement Award.
In February, 1994 her collegiate alma mater, Monmouth College invited her to give the annual Bernice Fox Lecture. She chose to discuss "Classics Across The Curriculum: A Practitioner's View" in which she espoused the idea that the study of classics could benefit a wide range of students of many ages and backgrounds.
In 2012 the American Classical League honored her with Merita status.
LeaAnn was no Ivory Tower classicist. I am told that she was a devoted fan of the Chicago Cubs and loved pop music stars such as Elvis and the Beatles.
Lea Ann passed away in Phoenix, Arizona on 11 April of this year. Her funeral rites were private but a group of classical colleagues met with members of her family at the Ahlgrim Funeral Home in Elmhurst to remember her. She is survived by her beloved life partner Mark Ducar, her sons, Eric L. and Scott L. Osburn and their wives and her grandsons, Alexander and Daniel Osburn.
Requiescat in pace!
Obituary written by Alice Mulberry for the Illinois Classical Conference