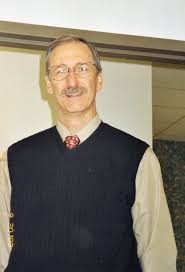 Oct. 16, 1951 — Sept. 22, 2018
SEELINGER died on September 22, 2018, on his father's birthday, after a four- and a-half-year battle with pancreatic cancer. He was born at Walter Reed Hospital in Washington DC on October 16, 1951. An Eagle Scout, he attended Rogers High School in Newport, Rhode Island, and Dickinson College, in Pennsylvania. He spent his junior year in Rome. He received an MA from Brown University, and a PhD in Classics and Classical Archaeology from the University of Missouri-Columbia in 1981. Seelinger learned Latin at an early age and continued to read, write, and teach it his whole life. He was also a scholar of ancient Greek, and during his three sabbatical years in Greece he became fluent in Modern Greek.
He moved to Columbia, MO in 1974 to pursue his PhD in the Department of Classical Studies. He started teaching Latin and other Classics courses part-time at Westminster College in 1979. The position became full-time and tenure-track in 1981.
From 1999-2005 he served as Dean of Faculty and Vice President of the College. He was a leader in the initiative to start a Westminster campus in Mesa, AZ and was grateful for the support and dedication of all those who were involved in that project. He was gratified by the fact that many of the Mesa students continued their Westminster experience on the Fulton campus. He was deeply moved by the retirement celebration he shared with other colleagues in 2016.
He is survived by his wife, Cathy Callaway, his son, Nicholas Seelinger, his sister, Barbara (Robert) Beebe of Middletown RI, and nephew Adam Carter of Tacoma WA, and two great nephews. He also leaves behind a beloved host of relatives on Cathy's side that consider him family; several were present at his peaceful death in his home. Thanks to the people at Hospice Compassus and Dr. Anna Hulbert for making this possible. We would also like to thank ALL the health care professionals, at the University Hospital in Columbia, at Mayo in Rochester MN, at Barnes in St Louis, and the Emergency Technicians in Fulton, who showed such compassion, care, and expertise every time they worked with him to cope with the challenges of this disease.
Celebration of Robert's life will be 2:00 pm Sunday, October 21, 2018 at the Church of St. Mary Aldermanbury located on the Westminster College Campus, 501 Westminster Ave. in Fulton, Missouri. A reception will follow the service. In lieu of flowers, contributions can be directed to either Westminster College, Mayo Clinic in Rochester MN, or the Fulton Soup Kitchen c/o Debo Funeral Home, 833 Court Street, Fulton, Missouri 65251.