Minutes of the Annual Business Meeting of CAMWS
114th Annual Meeting
Hotel Albuquerque, Albuquerque, New Mexico
Saturday, April 14, 2018, 8:00-9:15 a.m., Ballroom A
President Laura McClure called the meeting to order at 8:00 a.m.
The first order of business was approval of the Minutes of the April 8, 2017 Business Meeting, which had been posted on-line for several months at https://camws.org/sites/default/files/pictures/2017.Minutes.BusinesMeeting.pdf. There were no questions or corrections and Ruth Scodel moved and Keely Lake seconded a motion to approve the minutes as posted. This motion was approved by voice vote.
Secretary-Treasurer Thomas J. Sienkewicz then gave a report on the organization's current membership and finances. He first discussed the Membership Report by Category as of March 1, 2018 (Attachment A). He noted the healthy membership numbers, especially the record number of institutional memberships, and drew attention to the membership category for contingent faculty which had been introduced this year. Sienkewicz observed that the lower membership rate for this group was well offset by the increase in cost of a regular membership. He pointed out that the Membership Report by Region as of March 1, 2018 (Attachment B) included only a few years of data. He said that he would be happy to provide a more comprehensive historical record to any member who wished to see one.
Sienkewicz then discussed the Budget and Profit/Loss Statement as of March 1, 2018 (Attachment C) and explained that this was merely a snapshot in time, that the significant imbalance between income and expenses was due to the fact that meeting registrations had been received but no payments to the hotel had yet been made. He suggested that the end-of-year Budget and Profit/Loss Statement would show more balance between income and expenses.
Sienkewicz also distributed a snapshot endowment report prepared by CAMWS' investment company Raymond James (Attachment D), which would be discussed by Finance Committee Chair Mathias Hanses in his report.
Finally Sienkewicz said that the 2018 Audit Report prepared by Squire & Co of Orem, Utah, was satisfactory and that copies of the report were available to members upon request.
There were no questions about Sienkewicz' report. Jamie Wheeler then moved and Kristen Lord seconded a motion to accept the Secretary-Treasurer's report. This motion was approved by voice vote.
The Publications Reports began with CJ Editor Antony Augoustakis announcing that Volume 113 was now complete. The table of contents for 114.1 and 114.2 (October/November 2018, December 2018/January 2019) was now set, and the first issue would go to production, as scheduled, in September 2018. The quality of submissions remains very high; submissions cover a wide variety of areas in Greek and Latin literature with a balance between the two fields. The rejection rate for submissions in 2017 was at 44%, and the acceptance rate at 20%. Submissions by women this year were at 44%; the journal continues to receive submissions from a wide spectrum of junior and senior scholars. Forum continues to receive submissions of high quality.
TCL Editor John C. Gruber-Miller reported that submissions to Teaching Classical Languages have been strong and increasing over the past year. The next issue will be a special issue "Perspectives on the Revised Standards for Classical Language Learning," which will feature nine articles from teachers, methods course instructors, and authors of the Standards. In addition, there is a backlog of submissions at various stages of preparation, two ready to be copy-edited, four under revision, and two recently submitted. Gruber-Miller said that he was trying to find ways to get Teaching Classical Languages indexed and more accessible. Aggregators such as JSTOR and EBSCO have been contacted about the possibility of the journal being made available through their databases and Gruber-Miller is waiting to see what might be the best option for an open access journal such as TCL. Finally, he announced that Keely Lake will be TCL's new Editorial Assistant. After eight years, Meghan Yamanishi, a full time consulting librarian at Cornell and a recent mother, has decided to resign. He thanked Yamainishi for her hard work, her keen judgment, and genuine commitment to scholarly publication.
Newsletter editor Timothy Heckenlively reported that the Fall and Winter issues for 2017-18 were out. As usual, the Spring/Summer issue will follow in May, allowing time to incorporate photos and updates from the Annual Meeting. These issues include some incremental visual improvements based on the 2017 redesign of HTML and Word templates. He also said that he has been coordinating with the Secretary-Treasurer regarding the question of CAMWS moving its contact hosting out of ConstantContact and into the Drupal installation that powers the CAMWS website. Should that transition be made, it could include re-examination of our current dual-format publication method (both HTML and PDF). The HTML format is preferable for phones and other mobile devices, so this will require further discussion over the summer. Heckenlively added that last year's clarification of publication policy and creation of a special category for news from professional societies has greatly simplified the pre-production process and that, as part of a broader initiative of the Publications Sub-Committee, he was also preparing a handbook with timeline and responsibilities throughout the year to serve as a guide for future Newsletter editors (work in progress as of this writing). Closer coordination with web and social media, continued visual improvement, and additional content remain as continuing goals.
Social Media Director Sarah Teets reported that CAMWS has now completed its fifth year of social media presence. CAMWS has maintained an active presence on Facebook and Twitter. The Facebook page currently has a steady following of nearly 2,500. Since the end of CAMWS' first year on Facebook, the following has now more than doubled. Posts continue to have a wide reach, with many of pos­­­­­­ts reaching over 10,000 people. In fact, a post from last July on CAMWS member Travis Rupp's career as a beer archaeologist in Boulder, Colorado reached an audience of over 12,000 people. There have been thousands of reactions to CAMWS posts over the past year as well. CAMWS remain one of the top five Classics-themed Facebook presences in terms of its followers, and it is among the most active. The CAMWS Twitter account currently has nearly 1,100 followers. In recent months, the Facebook page has been subject to trolling in a handful of incidents by followers of the page. These instances of trolling do not occur in isolation, as anyone who follows the broader developments in the field online will be well aware. Teets recommended the adoption of clearly articulated policies for engaging with CAMWS through social media accounts in order to give the organization grounds for taking action in the likely event that such trolling continues in the future. In the coming months, Teets will be working with Tom Sienkewicz and others to draft a CAMWS Social Media policy to be approved by the Executive Committee.
There was no report from webmanager Bartolo Natoli.
There were no questions about any of the publications reports. David White then moved and Michael Gargarin seconded a motion to approve the publication reports. This motion was approved by voice vote.
The first committee report was given by Keely Lake, chair of the Committee for the Promotion of Latin. She noted that a fuller report on CPL activities and grants awarded, as well as state and regional reports, was posted on the CPL section of the CAMWS website (camws.org/sites/default/files/CPL%20Chair%202018_0.pdf). At the meeting sh e thanked the members of the CPL committee (Osman Umurhan, Rev. BA Gregg, Marcie Handler, Steven Jones, Alison Keith, and Garrett Jacobsen), the State and Regional VPs and, the Secretary-Treasurer and his administrative assistant Jevanie Gillen for keeping CPL running as smoothly as possible. She also thanked David Wharton for organizing this year's CPL panel, titled "The Promotion of Latin Teaching and Learning." She announced that the 2018 Outstanding Regional VP was Marcia Lindgren of the Plains Region, and the Outstanding State VP was Garrett Jacobsen of Ohio. Jacobsen was present to receive his award. Lake said that these two awards were difficult to choose because there are so many CAMWS VP's who go above and beyond to support the mission of CAMWS. She also announced two awards for Outstanding Promotional Activity in the Schools. The K-12 award recipients were David Withun and Benjanmin Payne of the Savannah Classical Academy in Georgia with Michele Valerie Ronnick of Wayne State University in Michigan. The College/University award recipient was Laury Ward of Hillsdale College in Michigan. Ronnick was present to accept the award.
Development Committee chair John Miller reported that the keen need for high school and middle school teachers of Latin has led the Development Committee to recommend a fundraising campaign to enhance the ability of CAMWS to support aspiring and veteran Latin teachers. The Executive Committee has endorsed this Teacher Training Initiative. The plan is for a flexible fund to support all the current ways that CAMWS assists Latin teacher training and continuing professional development—tuition, start-up funds, and travel abroad among others—with funds to be directed to the area of greatest need in a given year. At the same time, the campaign will highlight the new availability of support from CAMWS for Ph.D. students and recent Ph.D.'s who are making the transition to K-12 teaching. CAMWS consulares have just launched the campaign with gifts of $7,000, with one consularis announcing a bequest of $20,000 for this purpose. A call to the membership at large will be made shortly after the Albuquerque convention. Members may already contribute via the CAMWS Website by clicking the link Donate to CAMWS and selecting Teacher Training Initiative.
Finance Committee chair Mathias Hanses reported that the income for 2017-2018 had been projected to reach $252,020. As of April 7, 2018, the actual income was $234,975, a number that would continue to rise until the end of the fiscal year on June 30, 2018. Total expenses were currently at only $133,707, which adds up to a net operating income of $101,267. However, this number does not yet reflect expenses for the annual meeting. (Just as a reminder, last year CAMWS went over budget by $6,637, but this reflected a decision not to withdraw $19,000 to cover awards and scholarships.)
Hanses also noted these additional developments informing the numbers above:
1) The income from subscribers to CJ has kept falling, albeit more slowly. In June 2017, income was at $46,212; today, it stands at $45,627. Potential losses can be offset via royalties from JSTOR, but those numbers will not be available for several weeks.
2) In good news, the income from CAMWS memberships has risen by 22% from $52,235 in June 2017 to $63,960 in April 2018, well exceeding the levels in 2015 ($54,898 = earliest numbers available) and reversing a multi-year trend of decreasing income. Institutional memberships are at an all-time high, up from $9,428 in June 2017 to $9,480 in April 2018.
3) Number of CAMWS members joining ACL has stopped falling ($2,959 in 2017, $3,001 in 2018).
Hanses then reported on the state of the CAMWS endowment. Last year, CAMWS switched its relationship with Raymond James to a less expensive, discretionary model, meaning that the company has been making its own decisions regarding which funds to sell or replace without consulting the Finance Committee (but making sure to keep within the asset allocation guidelines and investment objectives of the CAMWS investment policy statement). Accordingly, there are no individual decisions to report. However, it seems the discretionary model has worked well for the CAMWS account. Last year, on March 16, 2017, the previous chair of the Finance Committee, Andromache Karanika, reported that the CAMWS endowment portfolio stood at $1,003,722, having just crossed the million-dollar mark. This year, as of March 31, 2018, the portfolio's value has risen to $1,091,585. This is an increase of $87,863 or 8.8%.
On behalf of the Graduate Student Issues Committee Chair Sarah Keith reported that 2017 was a great year for GSIC. At last year's CAMWS meeting in Kitchener, Ontario, GSIC presented a panel on hiring and career paths, a workshop on support and resources for graduate students within and beyond their immediate programs, and an introductory roundtable. Membership has grown in the last year, and the committee now numbers eight members, studying at the University of Colorado, the University of New Mexico, Kansas University, the University of Chicago, and the University of Massachusetts at Amherst. The GSIC Facebook and blog are still operational, and we welcome input and content from anyone interested on writing about a topic relating to graduate studies and the Classics. At this year's meeting, GSIC is hosting a panel on how to publish as grad students and beyond, and we invited Amy Pistone from the Women's Classical Caucus to talk about how intersectional issues affect graduate students in their capacities as teachers and students. This year's happy hour and round table were both great successes, and we look forward to taking advantage of this momentum to encourage larger graduation student attendance at CAMWS and our events.
Membership Committee chair Roger Macfarlane reported that as of March 1, 2018 the total of members/libraries (1815) was down 2.5% from 2017 (1861) but above the 12-year average dating to 2007 (average 1823). Spikes in 2013-2015 at or near 2000 members remain lofty landmarks. State membership/library increases from 2017 in AZ (high membership benchmark for the state since 2008), CO, IN (markedly up), IA, KS, KY, LA, MI, MS, MO, NB, ND, OH (markedly up from 2017), OK, TN, TX, UT (high since 2009), VA (markedly up), WI, Saskatchewan. Totals in NV in 2017 and 2018 maintain high marks. Ontario's totals (42), though declined since hosting at Kitchener, are up from any previous year in our survey. Where there were declines, most were meagre. At large memberships are off since the bump-up in 2013. Compared against decade-long averages, membership is generally up in Western states and down in the Middle West and in the South. State whose totals are above 10-year averages (actually since 2007) are AZ, CO, MS, NV, NM, SD, TX, UT, Manitoba, Ontario, Saskatchewan. Regional numbers reflect this same trend: losses in totals per region shown in Tidewater, Southeast, Gulf, Upper South, Ohio Valley, Lake Michigan, Northern Plains, and Plains, are offset by gains in Rocky Mountain and the three Canadian provinces. Institutional Memberships grew by one, from 120 to 121. This is one area of the spreadsheet where there has been continuous steady growth since 2003. Current 2018 membership is only slightly above the average annual number since 2007. During that period, a plateau at or above 1500 was sustained from 2013-2015. But individual membership has fallen off slightly since then. The ABQ meeting is expected to bring a boost with its c.700 conventioneers.
Nominating Committee Chair Alden Smith submitted the following slate for 2018-2019: for President Elect, Anne Groton of St. Olaf College in Minnesota, and for Member-at-Large, Georgia Irby of the College of William and Mary in Virginia. There were no nominations from the floor.
Program Committee Chair McClure thanked the Local Committee, without whose hard work the committee's labors would have been in vain. She further expressed the committee's collective gratitude to Sienkewicz and Gillen, both of whom did yeoman's labor for the program and the conference as a whole. She also particularly thanked the undergraduate students who took the trouble to submit papers, as we know that, at the inception of one's career, submitting a paper to a conference is nothing short of a courageous act. The Committee to select the Outstanding Graduate Student Paper Award consisted of Laura McClure, Andrew Faulkner, and Alden Smith. Twenty-three papers were submitted this year. Of these, the President chose six to forward to the other committee members. Like last year, it was a difficult decision as we deliberated between three top candidates, Isabella Reinhart (Penn State University), "Sound in Ennius' Annales" (camws.org/sites/default/files/meeting2018/abstracts/017.SoundEnnius.pdf), Brian McPhee (University of North Carolina at Chap), "Weird Pathos: Steisichorus' Geryoneis and the Sympathetic Monsters of Apollodorus' Argonautica" (camws.org/sites/default/files/meeting2018/abstracts/207.Sympathic%20Monsters.pdf) and Grace Funsten (University of Washington), "A Learned Dog: Roman Elegy and the Epitaph for Margarita" (camws.org/sites/default/files/meeting2018/abstracts/147.CIL6.29896.pdf) In the end the commitee chose Funsten's paper on the basis of its originality, argumentation, and diverse use of primary evidence. The committee recommends as the submissions continue to grow (up from 18 last year) that students incorporate all handout material into the paper for ease of reference, and include name, title, institution and contact information on the first page. As suggested last year, CAMWS may want to consider offering two awards, one for Greek and one for Latin areas. In closing, she thanked the hardworking members of the CAMWS Program Committee, and past and future presidents Alden Smith and Andrew Faulkner for their efforts this year.
On behalf of Jennifer L. Larson, chair of the Sub-Committee on the First Book Award, Meghan DeLuzio reported that this year the sub-committee received twelve nominations for the award, two of which did not qualify for consideration. This is a decrease in nominations from last year (sixteen). Among the eligible books, there was a nearly even split between Hellenist (five) and Latin/Roman topics (four), plus one book on the reception of Classical literature in the poetry of E. E. Cummings. She announced that this year's winners were Lauren Donovan Ginsberg (University of Cincinnati) for her book Staging Memory, Staging Strife. Empire and Civil War in the Octavia (global.oup.com/academic/product/staging-memory-staging-strife-9780190275952?cc=us&lang=en&: Oxford University Press, 2016) and J. Alison Rosenblitt (University of Oxford) for her book E. E. Cummings' Modernism and the Classics (global.oup.com/academic/product/e-e-cummings-modernism-and-the-classics-9780198767152?cc=us&lang=en&: Oxford University Press, 2016). DeLuzio read these committee citations (camws.org/node/1004) for the winning books. Neither recipient was present to accept the award. DeLuzio added Larson's thanks to this year's sub-committee members for their careful readings of the nominated volumes, their detailed and nuanced evaluations, and their promptness in meeting a very challenging set of deadlines and to DiLuzio for representing the sub-committee at the CAMWS Business Meeting.
Reporting for Helena Dettmer, chair of the Sub-committee for the Bolchazy Pedagogy Book Award, Barbara Boyd said that this was the fourth year that the Ladislaus J. Bolchazy Pedagogy Book Award was being made. Six books were nominated for the prize. Our committee had a difficult time determining the winner because all of the nominated texts are deserving of recognition. Dettmer wanted to thank the members of the committee for their hard work: Barbara Boyd from Bowdoin College, Generosa Jackson-Sangco from Oak Hall School, Beth Severy-Hoven from Macalester College, and Cynthia White from the University of Arizona. There were two winners of this year's prize: Erin K. Moodie (Purdue University) for her commentary, Plautus' Poenulus: A Student Commentary (www.press.umich.edu/8225179/plautus_poenulus: University of Michigan, 2015) and Judith M. Barringer (University of Edinburgh) for her The Art and Archaeology of Ancient Greece (admin.cambridge.org/vu/academic/subjects/classical-studies/classical-art-and-architecture/art-and-archaeology-ancient-greece#IXWvwmzGl083JVtx.97: Cambridge University, 2014). Boyd read this citation for Moodie's book (camws.org/moodie2018) and this one for Barringer's (camws.org/barringer2018). Moodie was present to accept her award.
School Awards Sub-Committee co-chair Margaret W. Musgrove reported that for the fourth year, this year's CAMWS Latin Translation Contest featured both Intermediate and Advanced levels of competition, and the contest was open to students at both the high school and college levels. The contest featured these passages: 2018 Intermediate Exam: "Ulysses and the Cyclops" (Source: Archibald Hodges, Supplement to Smith's Latin Lessons, (1918) and 2018 Advanced Exam: "Aeneas and the Sibyl" (Source: Ovid, Metamorphoses 14.104-128). At the high school level, 56 schools in 19 states (and one European country) participated; Georgia, Virginia, and Tennessee were the states with the highest levels of participation. A total of 1,036 high school students entered the competition, marking a 5% increase from 2017. At the college level, 33 schools in 18 states and 1 Canadian province participated. Virginia, Michigan, Texas, North Carolina, and Florida had the most schools entered. A total of 407 students registered, a slight decrease from last year's 417; however, only 308 papers were actually submitted for grading. Although it is certainly wonderful to have so many schools and students participating every year, the massive scale of this contest continues to create significant administrative challenges. One procedural change that was implemented this year involved the method of submission of exams. For the first time, participating teachers had the option of sending in their exams via traditional US mail or submitting a scanned set of exams as a single PDF via email. At the high school level, 28 of the 56 participating schools (exactly 50%) chose electronic delivery. At the college level, all but 3 schools opted for electronic delivery (91%). While this option was clearly quite popular with teachers, it created some organizational problems for the subcommittee's chairs, who had to reorganize the electronic files for distribution to the judges. A discussion may need to be held about the submission procedures in the future. As always, top-performing students in the competition will be recognized with cash awards, book awards, and certificates of commendation. A full list of the winning students, along with comprehensive performance and participation statistics, will be e-mailed to participating teachers and posted on the CAMWS website (at camws.org/node/856 for high school statistics and winners and at camws org/node/1031 for college/university statistics and winners). The sub-committee members deserve the thanks of the CAMWS membership as a whole, and the thanks of the sub-committee co-chairs in particular, for their service: Jason Nethercut, University of South Florida (FL); Debbie Felton, University of Massachusetts Amherst (MA); Sarah Ellery, Montgomery Bell Academy (TN); Chris Ann Matteo, Washington Latin Charter Public School (DC); William Duffy, Alamo College (TX); Nick Fletcher, Hawken School (OH); Krishni Burns, University of Illinois, Urbana-Champaign (IL); Katie James, Vanguard College Preparatory School (TX). The co-chairs thanked the small army of CAMWS members who generously volunteered to grade high school exams when the sheer quantity of submissions severely overwhelmed the committee's capacity to evaluate them: Nicoletta Villa-Sella, The Linsly School (WV); Tom Cirillo, Montgomery Bell Academy (TN); Randall Nichols, Westminster Schools of Augusta (GA); Christine Conklin, Thomas Jefferson High School (VA); Nora Murphy, Shaker Heights High School (OH); Tom Garvey, The Meadows School (NV); Trey Suddarth, Memphis University School (TN); Keely Lake, Wayland Academy (WI); Deanna Solomon, Classical Cottage School (VA); Meredith Kendall, The Bolles School (FL); Kate Hattemer, Flint Hill School (VA); Pierre Habel, D'Evelyn Junior / Senior High School (CO); Thomas Marier, Marist School (GA); Marilyn Reinhardt, Memphis University School (TN); Marni Dillard, John Burroughs School (MO); Matthew Moore, Eleanor Roosevelt High School (MD); Alan Farnsworth, Walton High School (GA); Alleyne Rogers, TMI – The Episcopal School of Texas (TX); A.W. Saunders, Marist School (GA); Brandtly Jones, St. Anne's-Belfield School (VA); Karl Frerichs, University School (OH); Kelly Ryan, Lovett School (GA); Heather Paff, Scottsdale Preparatory Academy (AZ); Jennifer Luongo, St. Andrew's Episcopal School (TX); Patrick McFadden, St. Mary's Episcopal School (TN).
Timothy Heckenlively, chair of the Stewart Undergraduate Awards Sub-committee, reported on behalf of committee members Peter J. Anderson of Grand Valley State University, Thomas Biggs of the University of Georgia, Joel Christensen of Brandeis University, Connie Rodriquez of Loyola University of New Orleans, and Kristen A. Ehrhardt of John Carroll University that the sub-committee received two applications for a Faculty-Undergraduate Collaborative Research Grant. Upon review, both projects were approved. The recipients were Krishni Burns and Samantha Lindgren of the University of Illinois at Urbana-Champaign ("The Living Odyssey Project: Greek Myth in 21st Century American Folklore", camws.org/livingodyssey) and Alden Smith and Cynthia Liu of Baylor University ("Chrysis: A New Editon of Enea Silvio Piccolomini's Comedy", camws.org/chrysis). Burns, Smith and Liu were present to accept the award. The sub-committee received 22 applications for this year's undergraduate award, all very high caliber, from 16 institutions. After careful review, the following six students were named as recipients of this year's award: Ashley Choo-Hen (University of North Carolina at Chapel Hill), Liliana Talwatte (University of Michigan), Mark Krause (Ripon College), Jamie Wheeler (Baylor University), Eva Bunchanan-Cates (Kenyon College) and Abigail Breuker (Agnes Scott College). Honorable Mention: Monique Viera, (Washington University in St. Louis). Wheeler was present to accept her award. Additional sub-committee activities included updating of our the sub-committee charter, development of a guidance document for future chairs of the committee, development of shared criteria for evaluation, and possible revision of the rules regarding future coursework.
On behalf of the Stewart Teacher Training and Travel Awards Sub-Committee, chair Lorenzo Garcia reported that the subcommittee was asked this year to take charge of a new award, the James Ruebel Undergraduate Student Travel Award, along with managing the three other award categories already assigned to it—namely, the Manson A. Stewart Teacher Training Awards, the Manson A. Stewart Travel awads, and the CAMWS New Teacher Awards. The budget for 2017-2018 was $5,600 for Stewart Teacher Training and Travel and the Ruebel Undergraduate Travel Awards, with an additional $2,000 budgeted for New Teacher awards. Since the Ruebel Undergraduate Student Travel Award was new, there were no clear guidelines either for the application process, including, for instance, what sort of information students should submit with their applications, nor any clear guidelines how the subcommittee should evaluate the applications. This year, the students filled out the same application as the other applicants applying for travel funds. The experience of looking at the applications led the sub-committee to think of criteria for evaluating applications next year and plans for prioritizing applicants. Keeping in mind our commitment as a sub-committee to support, in particular, secondary school teachers of Latin (and Greek) and to enable them to participate in the CAMWS community where they can foster new ideas about ancient texts and authors, pedagogies, and best practices in the classroom, the Stewart Teacher Training and Travel subcommittee will rate more highly those students who are focusing on training in the classical languages, those who express interest in teaching careers over non-teaching careers, and especially those who hope to become secondary-school educators over other academic teaching positions. A new application form dedicated to the Ruebel Undergraduate Award will be created that will request specific information:
college major;

number of years of study in Latin and/or ancient Greek;

a statement of how the applicant's studies in Classical Studies (or a related field: history, philosophy, religious studies, education, etc.) will bear upon her or his future course of studies/career choice;

a statement of how participation in CAMWS will benefit his or her future course of study and career as an educator.
In the future priority will be given to students with experience in the ancient languages who are specifically planning to teach languages at the secondary school level over students who are non-language track students (e.g., Classical Civilization majors or other majors with minimum language requirements). Priority will also be given to students currently enrolled in a B.A. granting program over a recent graduate of a B.A. program.
The sub-committee received six applications for Ruebel travel funds, all from undergraduates presenting papers at this year's CAMWS meeting. The subcommittee decided to award each of the applicants $200: Katherine Aberle (University of Misissippi), Ausltin Aororz Hattori (University of Georgia), Kirby Schoephoerster (St. Olaf College), Chad Michael Uhl (University of Kansas), Jamie Wheeler (Baylor University),and Stephanie Wong (Loyola University Chicago). Garcia reported that these awards would be made at the Panel in Honor of James Ruebel later in the conference.
Garcia reported that the sub-committee received four applications for Teacher Training awards this year from excellent candidates working on projects worthy of funding. The subcommittee decided to offer funds to three of the applicants to fund their projects in part: Rebecca Pomeroy (University of Massachusetts Amherst), Abby L. Lease (St. Ambrose Academy, Madison, WI), and Michael A. Posey (The Episcopal School of Baton Rouge). None of the recipients was in attendance to accept the award.
The sub-committee received 15 applications for funds for travel to the CAMWS conference in Albuquerque, NM. The subcommittee chose to offer awards to 8 applicants, giving priority to K-12 Latin school teachers who have not previously received support to attend a CAMWS meeting; graduate and post-baccalaureate students without institutional support who expressed interest in K-12 Latin teaching or language pedagogy; secondary school teachers who have not received support to attend CAMWS in the past 3 years; non-tenure track faculty who do not receive institutional support; and graduate students who serve the profession in some capacity. Recipients were Matthew Moore (Eleanor Roosevelt High School in Maryland), Spencer Kyle Smith (Fort Worth Country Day School in Texas), Timothy Brannelly (Longview High School in Texas), Samuel L. Kindick (University of Colorado Boulder), Eryn Pritchett (University of Notre Dame in Indiana), Nicholas Cross (Queens College, CUNY), Amy Leonard (Grady High School in Decatur, Georgia) and Samuel Hahn (University of Colorado Boulder). All but Matthew Moore were present at the meeting to receive their awards.
Garcia then reported on the two CAMWS awards for new teachers. The first, the Student Loan Assistance Award, is designed to offset student loan debt for recent baccalaureate or M.A.T. recipients who are entering the teaching profession by an award of up to $1,000. The second, the New Teacher Start Up Funds Award, offers up to a $500 start-up grant for new teachers designed to offset the costs of materials and supplies purchased for classroom instruction. The subcommittee did not receive any applications for the awards in 2017, likely because the awards were still quite new. In spite of the subcommittee chair receiving a few inquiries about the awards by email in 2017, the subcommittee did not receive any applications for the awards for 2018, and the $2,000 budgeted for the award for 2018 went unspent. The lack of applications after three years suggests either that the goal of the award is misdirected—i.e., that there is no real need among new teachers for funds to help pay off student loan debt or with expenses for starting up their classroom (an unlikely possibility); or, that the current requirements of the award are too stringent and candidates may think they do not qualify for the funds. The CAMWS awards page specifies that applicants must be "recent baccalaureate or M.A.T. recipients." One of the Stewart Teacher Training and Travel subcommittee members (John J. Hansen) brought to the subcommittee's attention, however, that "With so many charter schools and alternative paths to teacher licensing nowadays, I think most of the Latin teachers have an M.A. or Ph.D., but not in teaching. The M.A.T. specification suggests that I and so many others would not receive any award money if we applied." The subcommittee would like to revisit the specifics of the award and reconsider some of the specific requirements for the next award cycle. In addition, the subcommittee would like to consider how better to advertise the awards more to undergraduate and graduate students as they begin to plan their career choices.
On behalf of the Semple, Grant, and Benario Travel Awards Sub-Committee, chair Ariana E. Traill reported that travel grants were awato the following individuals: Christopher Wood of the University of Texas at Austin (Semple award to attend the summer session of the American School of Classical Studies at Athens), Lindsey Hullinger of the University of MassachusettsSAmherst (Grant award to attend the summer school of the American Academy in Rome) and Gabrielle Bouzigard of the University of Texas at Austin (Benario award to attend the Paideia Living Latin Program in Rome). None of these recipients were present to receive their awards. Traill added that compared to last year, application for these awards were down and more efforts are needed to increase applications. She encouraged members to apply themselves or suggest that others apply. The sub-committee has made a number of clarifications to the application process which have simplified the selection process. Other changes and clarifications are under discussion. Traill concluded by thanking the Executive Committee, the subcommittee members, as well as Secretary-Treasurer Sienkewicz and his administrative assistant Gillen for their invaluable assistance this year.
Douglas Clapp reported on behalf of Sandra Blakely, chair of the Excavation/Fieldschool Awards sub-committee. He began by extending Blakely's thanks to each member of the committee, all of whom gave great care and consideration to every application, and to the larger questions that this year's applications highlighted. The committee is grateful to CAMWS for the support of students and faculty who seek to bring the archaeological world into their training, their classrooms and their scholarly careers. Clapp reported that the following four awards were made: Alex Lee of Florida State University, recipient of the Peter Knox award, to participate in excavations at Cosa excavations; Devin Lawson of Coe College to attend the Archaeological field school at the Lechaion Harbor and Settlement project; Molly Schaub of the University of Michigan, to work at Gabii; and Caitlin Pallas of the University of Georgia, Athens, to work at the Roman Imperial Estate at Vagnari (Puglia). None of the recipients were present to receive their awards. The applicants this year fell into two groups. The first was clearly philological in focus, made of applicants who sought exposure to material culture in order to enrich their classrooms as well as their own studies. The second were those anticipating a career in archaeology, but focused on the Greco-Roman world. The sub-committee agreed that the award should recognize the value of both, and in particular be sensitive to those who recognize, in their applications, the significance of their proposed time in the field to their teaching, now and in the future. One applicant in this year's pool was from an ivy-league, R1 institution and was also the only applicant who has had previous field experience. The contrast with applicants from smaller institutions is a reminder of the advantages that applicants from well-funded institutions bring to the table. The sub-committee continues to keep to the fore in its deliberations the need to use the fellowship both to open doors and to reward excellence. Of the seven candidates this year, four were very strong applicants, with fine preparation, whose goals closely reflect CAMWS' signature concerns. The sub-committee received no applications from secondary school teachers, and will expand its efforts to reach that group in the coming year. The low applicant pool this year was quite surprising, particularly in light of how much advertising was sent out, and last year's robust group of 24. The sub-committee discussed at some length ways to address this and will modify application criteria accordingly.
On behalf of the Kraft and CAMWS Teaching Awards Sub-committee, chair Mary Pendergraft announced that Jesse Craft of Robert B. Glenn High School in Kernersville, North Carolina was recipient of the Kraft Award for Excellence in Secondary School Teaching and Jeanne Marie Neumann of Davidson College in North Carolina was recipient of the CAMWS Award for Excellence in College Teaching. Unfortunately, neither was able to be present at the business meeting where Pendergraft read abbreviated versions of this citation for Craft (camws.org/jessiecraft) and this one for Newmann (camws.org/neumann2018).
Nicoletta Villa-Sella, the chair of the Steering Committee on Awards and Scholarships, began her report by reminding the membership that the committee oversees the eight sub-committees granting awards. She then thanked the members of all the subcommittees for working diligently and dedicating a lot of time to fairly assign the awards and encouraged all members to spread the information about awards and encourage teachers at the K-12 level, undergraduates, graduates and new teachers to apply for the awards.
CAMWS Historian Ward W. Briggs reported for the History Committee that at the 2017 meeting the Committee supervised the recruiting, interviewing, and recording of senior members of the profession for the CAMWSCorps project. The project continued with at least 10 interviews in Albuquerque. The Project now has 74 recordings of interviews conducted by graduate students. Briggs expressed the committee's gratitude to the students for their invaluable help. He added that the Committee also discussed the presence and accessibility of the CAMWSCorps recordings on the website. The committee also proposes that continuance of the CAMWSCorps program be added to the charter of the Committee and that it be listed as one of the Historian's duties. The committee has discussed its responsibility for maintaining the records of the Association and controlling access to them. The logistics will be discussed further with the Secretary-Treasurer.
The Merit Committee report consisted of President McClure recognizing James May for his long and outstanding tenure as CAMWS orator by presenting him with an engraved candy jar filled with purple and gold M&Ms with CAMWS printed on them. May was given a standing ovation for his work.
Kristin O. Lord then read these resolutions (camws.org/resolutions2018) prepared by the Resolutions Committee.
There were no questions about any of the committee reports and a motion to accept all the committee reports was moved by Briggs and seconded by Smith. This motion was approved by voice vote.
Briggs then read the names of the following members whose deaths had come to the attention of CAMWS since the last annual meeting:
Thomas D. Worthen (University of Arizona), 5 October 2016
Edwin L. Brown (University of North Carolina, Chapel Hill), 27 March 2017
Clarence Jackson Gump (Waite High School, Toledo, OH), 20 April 2017
Robert F. Boughner (University of the Sciences, Philadelphia, PA), 30 August 2017
Geoffrey Murray Cartwright Dale, Trinity College School, Port Hope, ON), 11 December 2017
Eleanor Winsor Leach (Indiana University), 18 February 2018
Antonia J.R. Syson (Purdue University, IN), 25 March 2018
Leanne A. Osburn (Barrington High School, IL), 10 April 2018
Catherine Jane Edwards Scaife (Lexington Catholic High School, KY), 11 April 2018
A moment of silence was held in their memory.
Under Old Business Sienkewicz announced that the locations of future meetings were listed in the program and that the 2019 meeting would take place in Lincoln, Nebraska, at the invitation of the University of Nebraska. Anne Duncan then presented this slideshow (camws.org/sites/default/files/meeting2019/CAMWS-Presentation.pdf) inviting members to Lincoln. She emphasized the many attractions of the city and said that "Lincoln is not what you're thinkin'!" Davina McClain, Secretary-Treasurer of CAMWS Southern Section, then said that the 2019 meeting of CAMW-SS would take place in Winston-Salem, North Carolina, at the invitation of Wake Forest University. The call for papers would soon be posted. She also said that the 2020 meeting would take place in Waco, Texas, at the invitation of Baylor University.
Under New Business President McClure reported that the CAMWS Executive Committee had voted at its meeting on Wednesday, April 11, 2018, to give the College Greek Exam a home in CAMWS. The current committee will serve as a transitional committee running the exam for 2018 and recommending to the Executive Committee how the exam will be run in the future under CAMWS.
Under Announcements McClure said that there would be a book raffle for attendees of the Business meeting immediately after adjournment.
McClure then symbolically passed the presidential gavel over to President Elect Andrew Faulkner, who then presented McClure with a plaque and gavel in gratitude for her excellent service as president.
Robert Ulery then moved and Monica Cyrino seconded a motion to adjourn. The motion was approved by voice vote and the meeting adjourned at 9:10 a.m.
Respectfully submitted,
Thomas J. Sienkewicz
CAMWS Secretary-Treasurer
Attachment A. Membership by Categories (March 2018)|
Attachment B. Membership by Region (March 2018)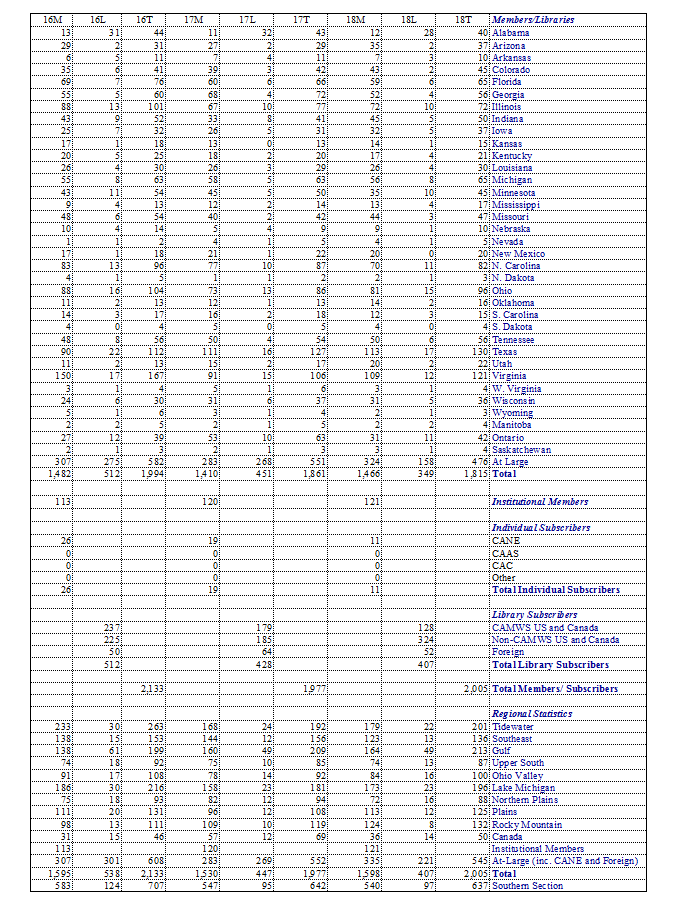 Attachment C CAMWS Profit and Loss July 1, 2017-March 13, 2018