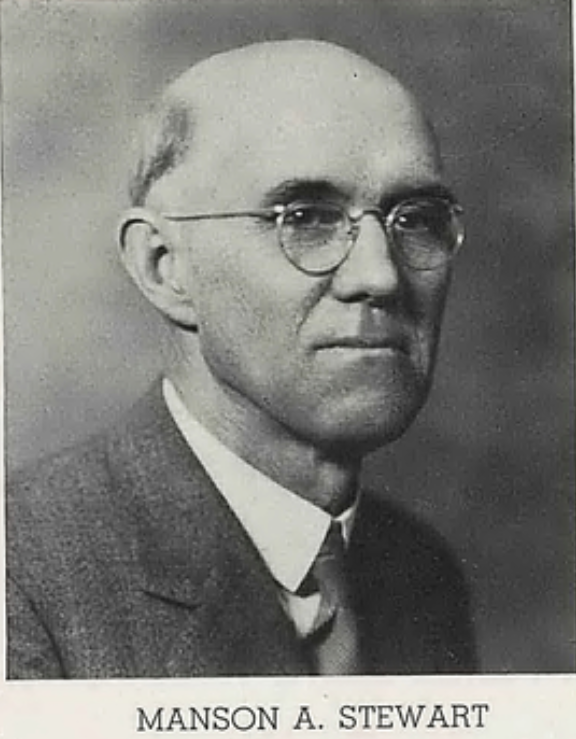 The Manson A. Stewart Undergraduate Award is named after Prof. Manson A. Stewart (pictured at left), who taught Classics at Yankton College in South Dakota from 1909 until 1948. This award was established as part of a bequest by his wife, Ruth Reed Stewart.
The award, originally a scholarship paid to the undergraduate student's instutution to cover tuition, is now paid directly to the student as a recognition of academic achievement and potential in the study of Classics.
Teachers of undergraduate students are invited to nominate their most outstanding young Classicists for the CAMWS Manson Stewart Undergraduate Awards. Every year CAMWS makes $1,000.00 awards (accompanied by a one-year membership in CAMWS) to a limited number of undergraduate students majoring in Classics at the sophomore or junior level at a CAMWS college or university. Nominees are expected to take a minimum of two courses in Latin or Greek (normally at least one per quarter or semester) during the junior or senior year in which the award is made.
Students are to be nominated by a department or program; no institution may nominate more than two students per year. The individual who fills out the nomination form on behalf of the department must be an individual member of CAMWS. Each nominee must fill out an application form, write a brief essay, and submit a college or university transcript and two letters of recommendation. Those who write the two letters of recommendations do not need to be CAMWS members. Applicants will indicate on their application the academic purpose for which they intend to use this award money (e.g., tuition, books, academic travel, etc.).
Nominations must be received annually by January 6.
If you represent a department wishing to nominate a student, you can do so by completing this on-line nomination form.
Applications must be received on-line annually by January 30.
Please note that a student can receive this award only once.
If you have any questions, please contact the chair of the CAMWS Undergraduate Award Committee at undergraduate@camws.org.
The recipients of these awards are announced at the annual business meeting.
Recipients of the 2023 Awards, in alphabetical order:
• Alexis Anderson, Augustana College
• Will Christofield, University of Kentucky
• Megan Dailey, Monmouth College
• Sara Landon, Kenyon College
• Claire Lanzendorf, Kenyon College
• Laurence Pavlik, Augustana College
Manson A. Stewart Undergraduate Awards around the Web