The 116th meeting of CAMWS will take place March 25-28, 2020, in Birmingham, Alabama at the Hyatt Regency Birmingham -- The Wynfrey Hotel at the invitation of Samford University.
/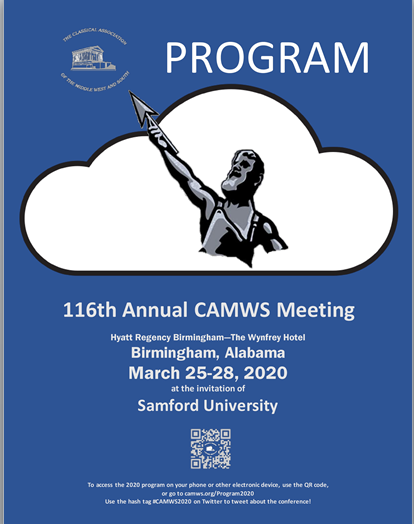 Meeting Highlights / Black Classicists Exhibit / Table-Reading of Sophocles' Trachiniae / Organizational Meeting for a CAMWS Drama Group / Meeting Advertizers and Sponsors
Here are descriptions of Individual Abstracts, Workshops, Panels, Round-Table Discussions, Undergraduate Papers and Undergraduate Posters which have been approved for the program. Here are the guidelines for formatting and presenting these posters at the meeting.
All presenters are encouraged to upload their handouts and other presentation materials here: https://camws.org/2020-meeting-uploads. Please contact camws@camws.org for uploading instructions.
Are you the author of a new book? Have it displayed at CAMWS 2020 in Birmingham. See CAMWS Author Book Display
CAMWS will once again host in Birmingham an Ascanius Workshop entitled "Let's Learn Latin", designed to introduce non-Latin teachers in elementary and middle school to the world of Latin and the ancient Romans. This workshop is free but advance registration is required. Register here: www.ascaniusyci.org/birmingham.
At the 2020 Business Meeting in Birmingham the membership will be asked to approve these minutes of the 2019 Meeting in Lincoln. If you have any corrections to these minutes, you are encouraged to sent them to the Secretary Treasurer at stcamws@camws.org as soon as possible.
The Business Meeting will also include motions to amend the CAMWS Constitution. For details see Proposed Amendments to the CAMWS Constitution.
Lactation Room:
The Suffolk Room is available throughout the conference as a private space where nursing mothers and parents with small children can attend to their needs.
Quiet Room:
The Buckingham Room is available throughout the conference for attendees who need a quiet space where they can escape temporarily from the stress of the meeting.
Gender-Neutral Bathrooms:
A gender-neutral bathroom is available in the Buckingham Room. Other family/gender-inclusive restrooms are located in the food court of the mall a short walk away.
The Local Committee offers this website filled with information about the Pittsburgh of the South: Join CAMWS in Birmingham.
Advice about food and travel from the Local Committee.
A Guide for Presenting Professional Papers at CAMWS Meetings
A Guide for Presiders of Sessions at CAMWS Meetings
Guidelines for preparing presentation materials (handouts, Powerpoints, etc.) for the CAMWS meeting